---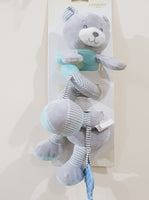 Happy Teddy Bear with Plush Toy
Product Features: 
Perfect to keep your little one busy

Attactive colour and design
This toy is very soft and allows baby to touch, pull, and squeeze safely.


With the toys, you can teach baby to recognize the bright color animals, develop their tactile senses, hand and eye coordination naturally.

Perfect for you to interact with baby, they will be attracted and have fun playing with the cute toy anywhere, free yourself to do your affairs.

It's easy to spiral the animals toy on car seat, baby carrier, bassinet stroller and crib rails. Allow baby to play anytime and helpful to improve their visual, auditory development.

Helps in incresaing your baby's Motor Skills, Imagination and creativity, senses stimulation and assits in social interaction. 
Made in China